Event Map
Dust Fest 2023 Archive Updated as of July 17th, 2023.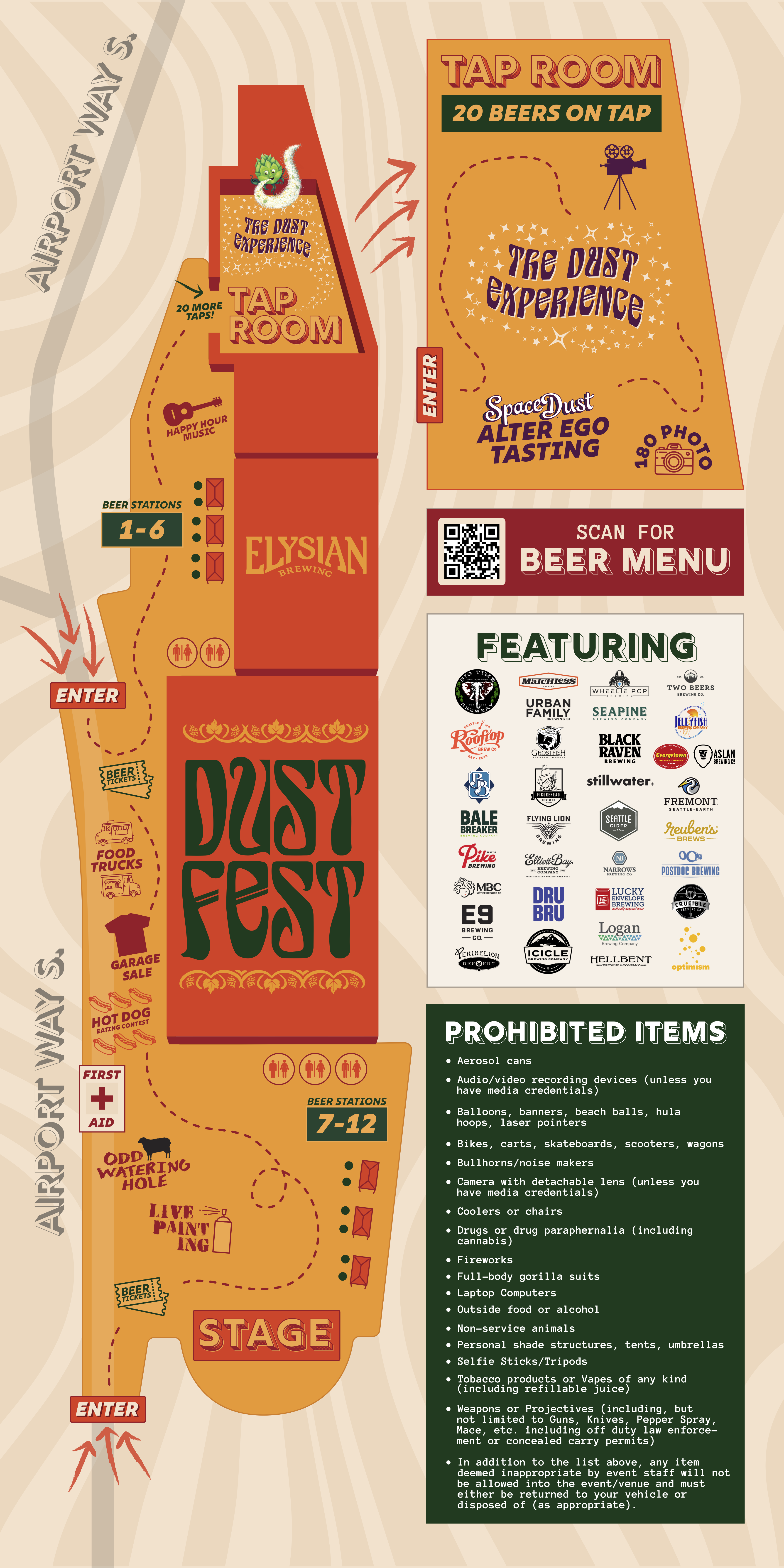 So many activities to do at Dust Fest!
Updated as of July 13th, 2023.
Beer Stations
Immerse yourself in the world of local craft IPAs at our 12 Beer Stations, offering 45+ varieties. Need more than your 5 beer tickets? No problem! Additional tickets are available for just $2 at the event.
Merch Tent
Step up to our merch tent and discover a treasure trove of exclusive event goodies to elevate your Dust Fest experience.
Garage Sale
We saved our annual garage sale for an epic summer merch blowout!
Sizes are limited. Get it while it's hot!
Food & Treat Vendors
Satisfy your taste buds with delicious grub from local food trucks, serving up delectable dishes from 4PM to 10PM. Check out the participating vendors here.
Hot Dog Eating Contest
Loosen your belts and unleash your inner champion at our Hot Dog Eating Contest.
The contest will commence at 5:30 PM in front of the food trucks.
The Dust Experience
Venture into the vast Dust Experience at the Elysian Taproom. Learn about the history of our flagship brew, and then sample, and vote on new Space Dust Alter Ego recipes. Additionally, enjoy 20 extra Elysian beer tabs, including non-IPA options like our new summer seasonal, Push Mower Pils.
Untappd
Earn a limited-edition Dust Fest badge on Untappd by checking in a Space Dust IPA. Show your badge to the beertender at the Dust Experience Beer Station to receive a complimentary Space Dust magnet while supplies last.
Odd Watering Hole
Step into the Odd Watering Hole at the Elysian Dust Fest, where mischief reigns, and relaxation takes a quirky turn. As you sip on free cans of non-alcoholic Odd Water Sparkling Hop Water, prepare for a delightful assault on your senses with a lineup of peculiar surprises and experiences that will leave you both puzzled and pleasantly refreshed.
Live Art Installation
Throughout the day, Angelina Villalobos will be painting an Elysian-inspired mural near the mainstage. Villalobos is a muralist and teaching artist in Seattle, Washington, who is driven by the belief that art should be accessible to all. Her public art projects create a safe and beautiful space for community members by engaging them in mindful installations. Angelina's work invites the viewer to be a part of their environment through observation, critique, and participation.
180 Degree Photo Booth
Capture the spirit of Dust Fest in a single shot at our 3D Dust Fest photo booth near the Main Stage. Share your moments on Instagram by tagging us @elysianbrewing or using the event hashtag: #ElysianDustFest.